Features:
Easily cleans your feet from top to bottom;
No more bending or stretching to clean your feet;
Made with over a thousand soft cleaning bristle;
Massages, exfoliates & eliminates dirt;
Pumice stone smooth rough, cracked heels;
Fits all feet no matter what shape or size;
Suction cup base sticks to almost any surface;
Easy to keep clean;
Be great for feet of all ages, perfect for family use;
Perfect for seniors and those with limited movement;
[Product size]: 28*14*11.5cm
NO MORE FOOT ODOR ANDATHLETE'S FOOT FOR YOU!
We all know it. It's either ourselves or someone we know.There are barely things that are more awkward, embarrassing and uncomfortable than the odor of sweat stained feet.
It's a very common issue for children and adults who wearshoes on a daily basis and chances are high that you alsostruggle with the smell that your feet spread after a long day with shoes on yourself.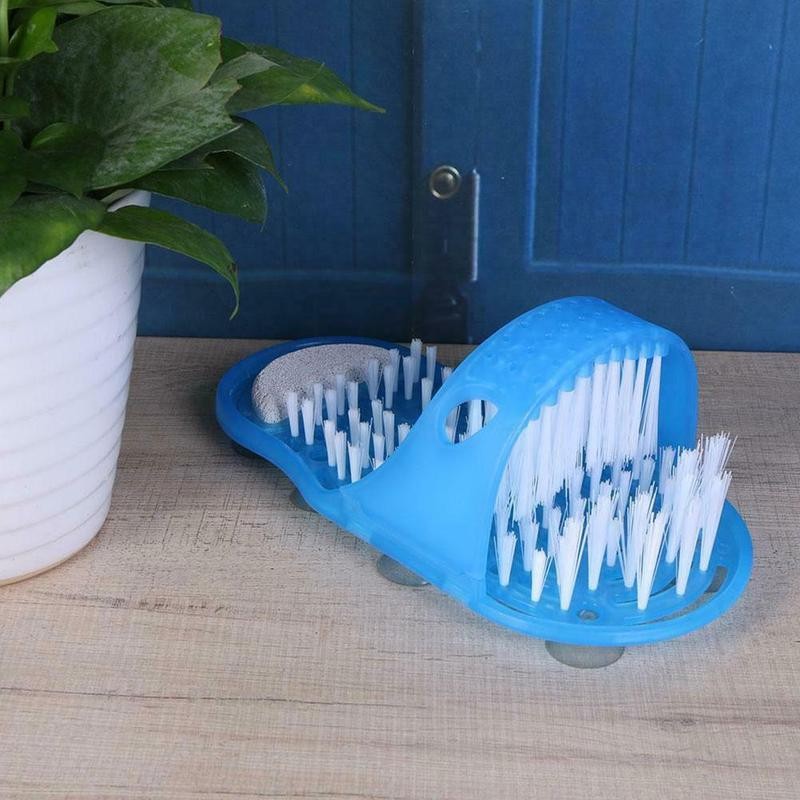 WHY IS IT SO COMMON?

Feet have more sweat glands per inch of skin than anyother part of the body, and these glands produce sweatprofusely and not just when the weather is hot or duringexercise as other parts of the body do, but continuously.Us wearing shoes almost every day mostly for a long time only reinforces the perspiration.
So it is not just a seasonal problem that we only strugglewith in summertime, it also appears in winter since we wear shoes that are even thicker.

Sweat promotes the growth of bacteria, some of whichactually eat away the top layer of the skin, producing thefoul odor. A common mistake that stimulates the smell is the lack of proper cleaning.

The majority of people may take a shower regularly, butneglect a proper cleaning of the feet, mostly because it isinconvenient to bend and stretch down for a sufficient time to give the feet the extensive cleaning it requires.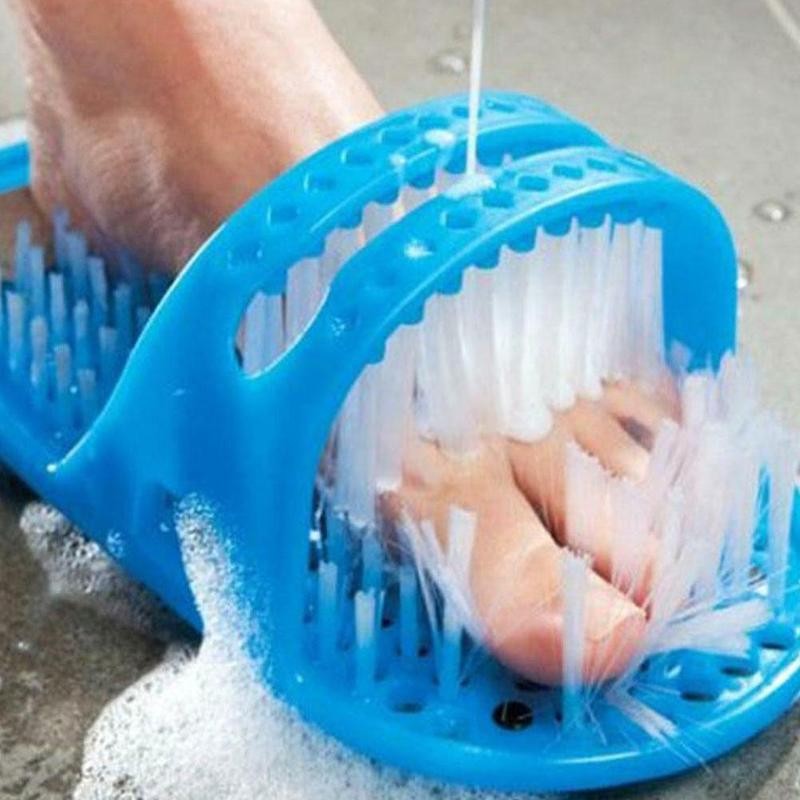 INTRODUCING THE SOLUTION

The Foot Cleaner enables you to avoid all the issues aboveand leaves the struggle of having foot odor behind you.

It is build like a big flip flop and includes over 1 000 softcleaning bristles from which some are positioned betweenyour toes to also properly clean this area that is so hard to clean in the conventional way.

Secure the foot cleaner with the suction cups that areplaced on the sole to any tub or shower so that it won't slip away.

Now you only need to move your foot back and forth on the bristles to properly clean it.
 
EVER HAD A PEDICURE WHILE WASHING YOUR FEET?

The Foot Cleaner has a well positioned pumice stone toeffectively remove rough skin to soften Cracked Heels.But it is not just the functional aspect that convinces.Enjoy the feeling of a feet massage that the soft pumice stone adds to your cleaning routine.

It is a combination of functionality and wellness that wasable to help and satisfy so many people already around the globe.

It is not the type of invention you would expect a footcleaner to be, but from now on you should expect nothing
less!
100% SATISFACTION GUARANTEE
1. No Risk, 30-Day Money Back Guarantee.
2. Comprehensive 1-Year Warranty Included.
3. 100% Quality Inspection on every order.
4. No hidden fees.
5. Safe Payments via Credit/Debit Card or PayPal®
6. End to End Tracking for every order.
SHIPPING & CORONAVIRUS EFFECT UPDATE 🚨
In light of the ongoing coronavirus (COVID-19) pandemic, our hearts and prayers go out to all of those who have been affected. 
Due to the impact of the COVID-19, some areas into a "lockdown", our shipping times is slower than usual ship times . Recently the order processing time is 4-8days, shipping time is 30-40 days , If you have any questions or you change your mind please contact us feel free, our email is support@miniwoow.com
WHERE CAN I FIND MY TRACKING NUMBER?
All tracking will be available once the item arrives in the destination country! Once the item arrives we will be able to update you with the tracking number.
WHEN WILL YOU SHIP MY ORDER?
Your order will ship out as soon as it's processed by our warehouse. Our order processing times are:
5-7 Business Days Depending On Product Design and Item. Most of our items are made upon order to ensure the best quality for our customers!
Delivery times vary depending on your location and selected delivery method.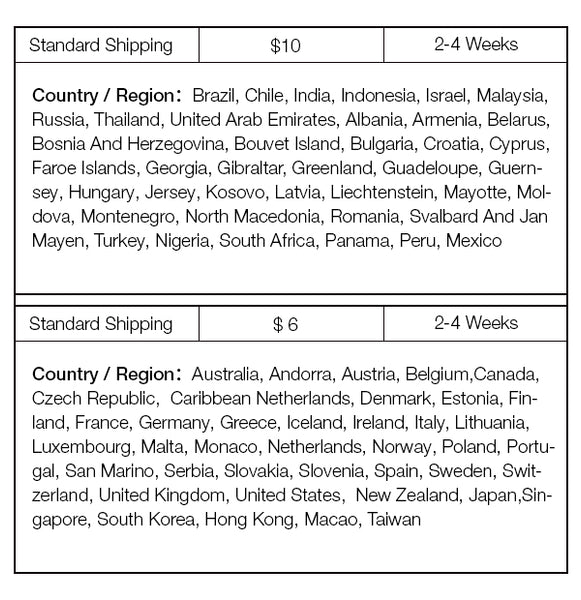 Standard shipping ($6 or $10)

For US citizens, your order will take between 7 to 14 Business days to arrive at your doorstep once your order is dispatched.
For Europe , to UK Germany France 7- 12 Business days , others will take 20-30 days in Europe. 
For Australia and Canada , your order will take between 7 to 15 Business  days to arrive at your doorstep once your order is dispatched.
For HK , JP , KR UAE your order will take between 7 to 15 Business days to arrive at your doorstep once your order is dispatched.
Others often 24-45 days but it could be up to 61 days in rare cases. 
You will receive tracking information of your parcel by email between 5 to 7 days business days of ordering.
MY ORDER STATUS SAYS "DELIVERED" BUT I HAVE NOT RECEIVED IT.
Please contact us at support@miniwoow.com

THERE'S SOMETHING WRONG WITH MY ORDER.
Please email us or message us on Facebook for the quickest reply!
HOW LONG DOES IT TAKE FOR A RETURN/EXCHANGE TO BE COMPLETED?
We typically process returns/exchanges within 48 hours upon receiving your package.
INTERNATIONAL CUSTOMERS
WHY ISN'T THIS PRODUCT AVAILABLE TO SHIP TO MY COUNTRY?
Due to our licensing agreements, some of our licensed products are limited to select countries.
DO YOU SHIP INTERNATIONALLY?
We currently ship to over 80 countries!
HOW LONG WILL MY ORDER TAKE TO ARRIVE?
Shipping times vary depending on your country of residence and the shipping method you select.
WILL I NEED TO PAY DUTIES AND TAXES?
You may be required to pay duties and taxes depending on the laws of your country of residence
CAN I RETURN OR EXCHANGE AN ITEM?
We offer a 30-day full refund policy. If you're not pleased with your item - send it back for a money-back guarantee. Read our return policy for more details. 
WHAT IF I RECEIVED A FAULTY ITEM?
We are terribly sorry if this has happened. We would like to sort out any faults immediately.
As soon as you discover a fault, please contact us immediately (within 7 days of receiving your parcel) via 'Contact Us' on our website.